Did you just read about the study conducted by Marketing Week, which states that there has been a 116.4% increase in demand for marketers with Paid Social Media skills or the CMO article stating that Marketers with experience in copywriting, graphic design and a good understanding of user experience, who can develop go-to-market strategies for brands are in hot demand in 2021? Has all of this got you excited and wanting to get started in Digital Marketing?
But you don't have the experience nor the right degree, so that means you can't be a digital marketer, right?
Wrong.
Experience and a college degree will help you get vital marketing skills, offer a solid job outlook and ensure you hit the ground running when you graduate. However, if you don't have a college degree, that's not the end of the world! There's still a lot that you can do to get started in digital marketing.
Become a T-Shaped Marketer
---
Most companies today are looking for T-Shaped Marketers.
No, that's not a term that I made up.
In a nutshell, T-Shaped Marketers possess basic knowledge of the different foundational marketing skills but excel in just a couple of facets. They are generalists with one speciality.
Why are companies looking for T-Shaped Marketers?
Sometimes, marketing teams can be extremely siloed. This approach does not give optimal results. In the modern marketing sense, there is a need for every member of the team to understand how their work aligns with the work of others. For this to happen, every member should have a basic understanding of the work done by all other team members.


Startups / small businesses often cannot afford to hire a full marketing team. So, it makes sense for them to hire a T-Shaped Marketer who can wear many hats and can cover all these areas of marketers. For example, developing a content strategy to be distributed on all channels, implementing tracking, analyzing the KPIs and making the necessary modifications.
So, how can you get started in Digital Marketing if you don't have any experience?
As I mentioned above, the first step that you should take to get started in Digital Marketing is understanding the fundamental concepts. Once you've done that, you can decide which facet of Digital Marketing you want to specialise in.
Isn't it wonderful to be alive at a time when you can get access to the world's best education from the comfort of your home? Companies like Coursera, Udemy etc provide courses in digital marketing formulated by top universities for a small subscription fee.
Let us go through all the fundamental concepts and what you can do to improve your understanding of them:
Content Marketing
---
Content Marketing has been around since before the internet was a thing. If we just look at what percentage of companies are using content marketing, it's astonishing.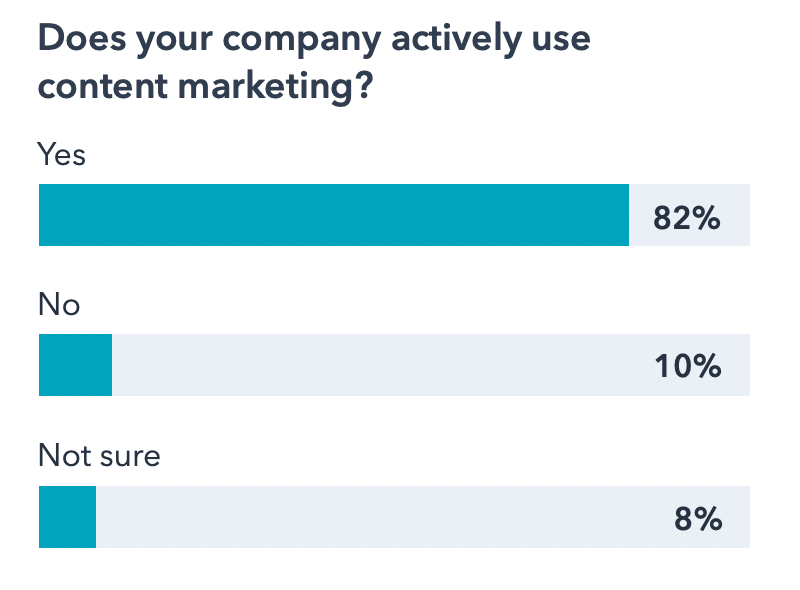 According to the State-of-Marketing study conducted by Hubspot, 82% of businesses are actively using content marketing in 2021 with videos, blogs and infographics being the primary forms of media used in the content marketing strategy.
Brands have started to realise the importance of content marketing in driving brand awareness and are investing more time and effort into it.
The first step to get into Digital Marketing would be to understand how to produce effective content on a consistent basis that both readers and search engines will love.
This content marketing course by HubSpot Academy can help you become an effective content marketer.
And it's free.
Email Marketing
---
77% of the businesses that participated in Hubspot's State-of-Marketing study said that they have seen increased customer engagement with email campaigns in the past 12 months.
Yes, you read it right.
Contrary to the popular belief, Email Marketing is not dead. In fact, businesses are now benefitting more from it than ever before.
Why? Because email marketing allows marketers to prioritize segmentation and send highly personalized messages to their customers. Not only this, it can be automated to a great extent. Provided that you'll be just getting started in the Digital Marketing arena, a great email marketing tool that you can use is Mailchimp. Mailchimp is the most widely used email marketing software by a wide range of SMBs.
With Mailchimp's simple drag-and-drop builder, you don't need to have any coding knowledge to design stunning, personalized and responsive newsletters.
Want to learn from the best?
You can check out their MailChimp 101 resource section.
Data & Analytics
---
With the increasing amounts of data being collected from e-commerce stores, social media platforms, blogs etc, creating a sense of this data has become increasingly important as well. Huge amounts of customer data can be utilized to build more sophisticated models to predict consumer behaviour.
It can also help companies build more personalized and targeted campaigns, which provide higher ROI than traditional marketing campaigns.
Even small brands can benefit greatly by analysing customer behaviour on their website and across their social media channels. Marketing analytics can be intimidating for someone who doesn't have much quantitative knowledge but it doesn't have to be.
Below are two courses available on Coursera that you can enroll in to get started in digital marketing without any experience:
Paid Media
---
In 2021, social media pulled ahead of website to become the #1 channel used for marketing. Businesses are allocating 27% of their marketing budget, on average, towards paid media marketing.
It has become increasingly important for anyone who wants to get started in digital marketing to understand the fundamental concepts of paid media.
Why not learn from the platforms that you'll probably be running your brand advertisements on?
The best part is that most of these companies offer free courses for their ad platforms and below are few courses that you can take to learn how to use these tools to run highly effective and stand-out ad campaigns.
Google Ads:
Learn the Basics of Google Ads ↗
Learn by Google Ads Campaign Types ↗
Note: You might have to make a profile before accessing the courses.
Facebook and Instagram Ads:
Learn how to use Facebook Ads Manager (For running ads on both Facebook and Instagram) from the courses available here.
LinkedIn Ads:
Introduction to LinkedIn Ads ↗
Search Marketing
---
Search Marketing, Search Engine Marketing (SEM), Search Engine Optimisation (SEO) – whatttt?? *inserts woozy face emoji and mind blown emoji*
What is the difference between the three?
It's simple – lets understand this through the good old venn diagram.
Search Marketing is a marketing strategy that encompasses both Search Engine Optimisation (SEO) and Search Engine Marketing (SEM).
In order to understand Search Engine Marketing better, you can go through the Google Ads course that I've listed under Paid Media.
With regards to Search Engine Optimisation (SEO), the first thing that you should do is understand how to write effective and impactful content that is both human and SERP friendly. Second, to understand on-page, off-page and technical SEO better, you can go back to HubSpot Academy.
Why? Their blog attracts approximately 350000 visitors per day. Now that speaks volumes about their SEO skills. To get started in digital marketing and SEO, I would recommend going through their SEO Certification Course ↗.
It's free of cost and only 2-3 hours long, so go for it.
Social Media
---
Now you're already an expert in social media, aren't you? If you are, feel free to skip this and move on to the next section.
In case you're not an expert and want a little bit of help in this area, continue reading.
To get started in the world of social media and showcase your brand in front of millions of users, you'll need at least these two things:
Content Marketing – Now we have already discussed this before. You'll need to know how to write engaging captions, compelling content that ties your brand with its audience.

Graphic Design – No, I'm not asking you to learn all those complicated Adobe Software. It's always a plus if you do but if you don't, and you're not interested spending hours learning them, don't worry. There are plenty of websites that let you make stunning graphics in minutes with simple drag and drop features.

Yes you know it.
You know which website I'm going to link here. Extra points if you get it right.
It's Canva ↗.
Yes, I know it's not only about being able to put elements on the graphic. There should be visual hierarchy, layout techniques etc. That's why I'm putting a link to Canva Design School where you can learn all about these things and finally get started in Digital Marketing.
Ecommerce Marketing
---
If you have an e-commerce store or want to drive awareness towards your product or service online, then you'll be doing something known as Ecommerce Marketing.
In other words, it refers to any marketing activity (digital in this case) that you or your company undertake to drive the top-of-funnel traffic and convert them into sales.
Once you've gone through each of the things that I have mentioned above, you can combine all of those. Once done in tandem, they can help generate more revenue for your e-commerce store.
Conclusion
---
It can be hard getting into any field without experience and digital marketing is no exception. The first step to getting started in Digital Marketing will be to get a better understanding of all the fundamentals and then you can decide which facet of Digital Marketing you want to specialize in.