You've started a new blog with some great quality content. You're sharing each blog post on your social media channels and through email newsletters as well. However, the traffic and page views are still not where you want them to be.
Getting traffic on your website, especially if you're in an extremely competitive sector, is not easy and many marketers struggle with it.
There are a lot of ways to start getting traffic on your website. The most important one is to ensure that your On-Page SEO is on point. Once you've done this, you can move on to other methods of increasing website traffic, such as Content Syndication.
What is Content Syndication?
Content Syndication is simply a method of republishing existing content on one or more third-party websites to reach a broader audience.
A lot of people worry about duplicate content affecting their website rankings. Contrary to the popular belief, there is no such thing as a duplicate content penalty by Google.
Google does frown upon websites that duplicate content to manipulate search engine rankings. However, it also acknowledges the fact that duplicate content might appear on multiple websites for legitimate reasons.
Let us look at an example of content syndication: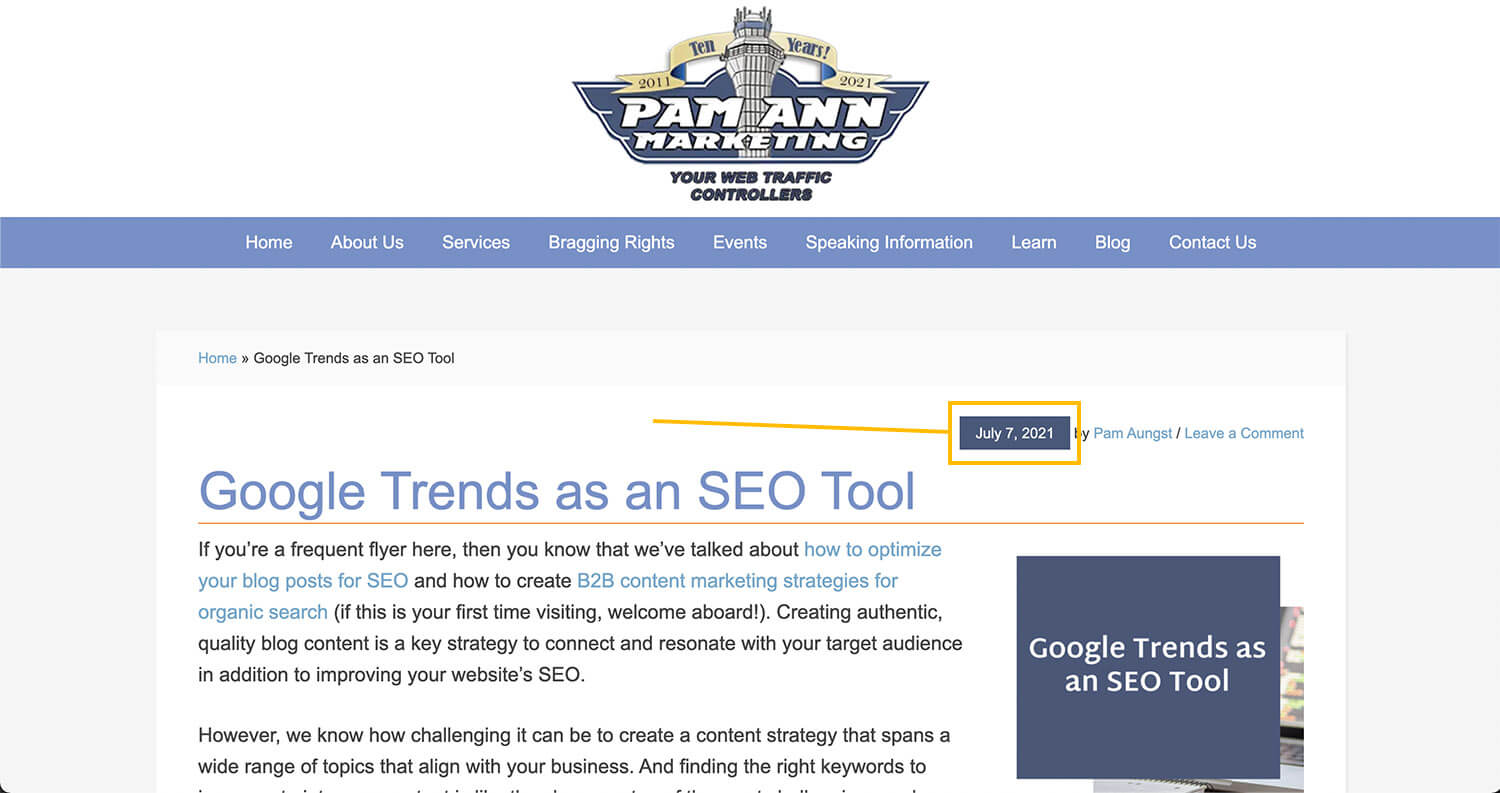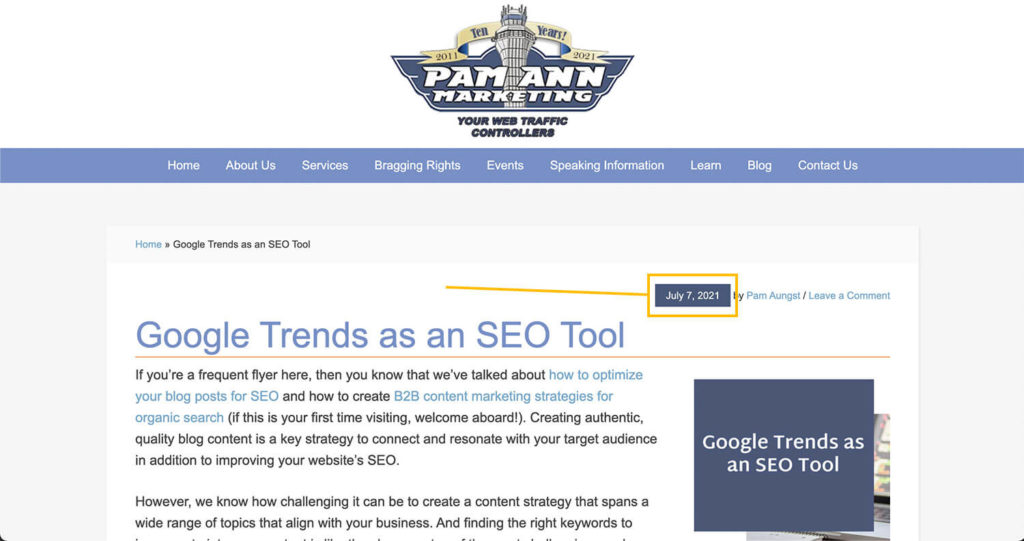 This amazing article on How to use Google Trends as an SEO Tool appeared first on Pam Ann Marketing Website on July 7, 2021.
It was then syndicated on July 12, 2021, on the Business 2 Community, a website with far greater reach than Pam Ann.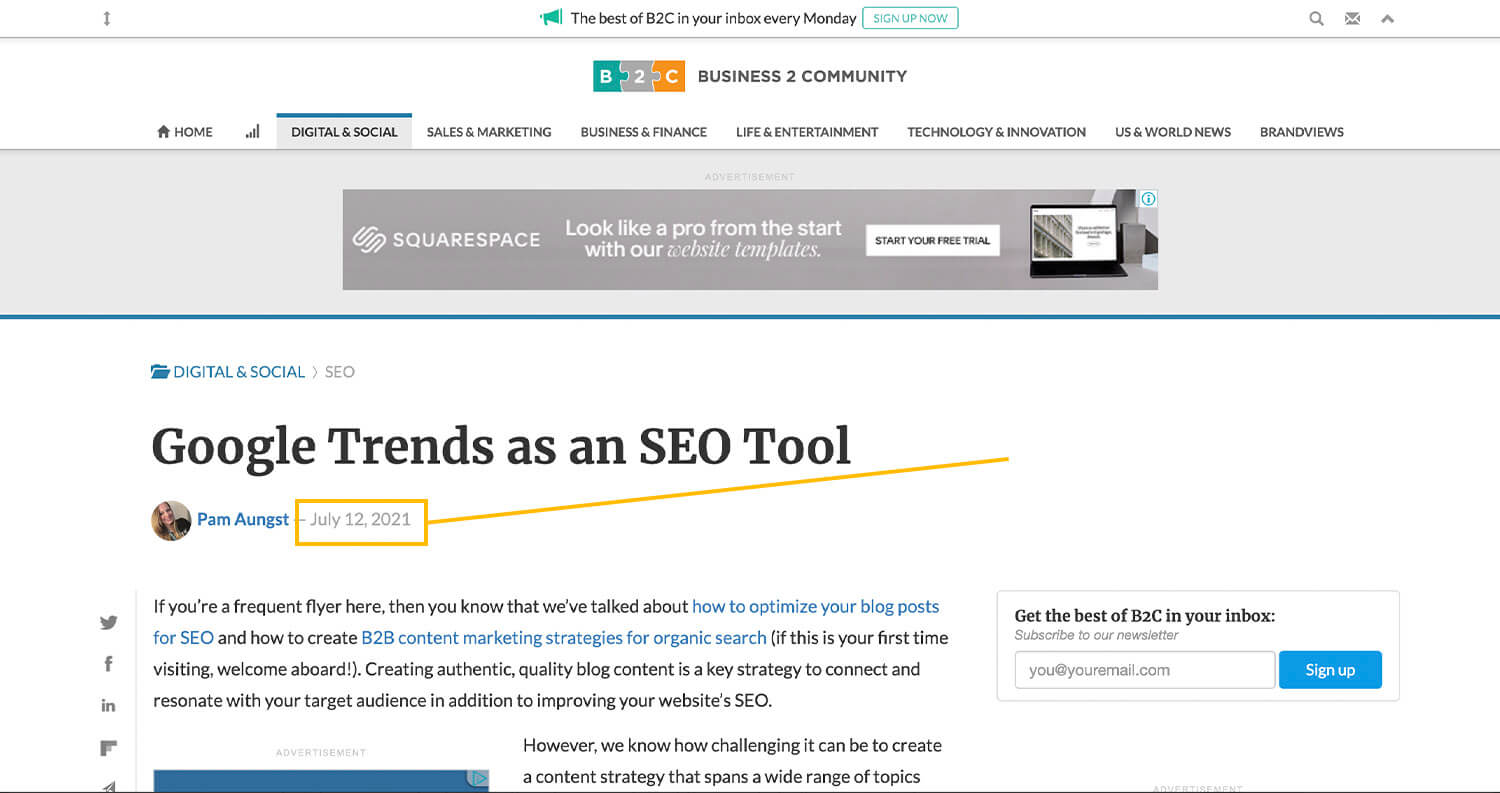 At the end of this post, you can see a link back to Pam Ann Marketing's original blog post. This method of distributing existing content on multiple websites is known as content syndication.


Benefits of Content Syndication
There are a lot of reasons to start doing Content Syndication:
1. Get more exposure
When you republish your content on websites that get more traffic than yours, you are essentially attracting more eyeballs to your content.
2. Get more referral traffic
Most of the websites that are open to content syndication provide a link to the original post to tell their readers where the content originally appeared.
If you're providing valuable content, the readers might click through to your website and start following you.
3. Much more scalable than guest posting
How many guests posts can you write in a month? Content Syndication allows you to share the same content on multiple websites and you don't have to spend a lot of time writing a different piece of content for every website you want to share something on.
Issues with Content Syndication
There are certain disadvantages of content syndication as well:
1. Republished Post can rank higher than Original
Even though Google's algorithm is smart enough to identify duplicates, cluster them together and identify the original content, which Google ranks higher, it can sometimes incorrectly identify the original content.
This is where the problem arises. It can happen to small websites that are syndicating their content to big publications.
There is an easy fix to ensure this doesn't happen. Skip to this section to see how you can prevent this from happening.
2. Getting email subscribers becomes difficult
If your main aim is to get more email subscribers then content syndication might not work for you. Most of the syndicates won't allow you to add an email newsletter widget/link in the content.
How does Content Syndication affect SEO?
With content syndication, the problem of duplicate content does arise. However, as mentioned above, there is nothing like a duplicate content penalty imposed by Google. Google is just not a fan of duplicate content.
There are a couple of ways to ensure that you let Google know that you're not trying to manipulate search results but are just trying to get more exposure for your amazing content.
Implementing any one of these solutions can also prevent Google from incorrectly identifying the original content and from letting the republished content outrank your original piece?
Let's see what these solutions are:
1. Rel=canonical tag
❗️ Google has recently updated its guidelines and it no longer recommends the use of canonical tags for syndicated content on other websites. Read more about the update here.
When you add a canonical tag to a page or a post, you direct Google to the original publisher of the content.
Similarly, if the syndicates put a rel=canonical tag to your republished posts, they are essentially telling Google that you're the original author of the content. This helps Google to identify the original post when it has clustered the duplicates together.
The rel=canonical tag also lets you benefit from the links that the republished copy of your post and the syndicates attract.
Always request your syndicate partners to put a rel=canonical tag on your republished post.
2. NoIndex
When you tag a post as "NoIndex", you are telling Google not to index the page and show it on SERPs. If your syndicate partner website tags your republished post as NoIndex, it won't be shown on Google Search and will not outrank your content for the relevant keywords.
However, it is highly unlikely that the syndicate will agree to tag the post as "NoIndex", so, try and push for rel=canonical tag. Plus, the Google algorithm has gotten extremely good in identifying and interpreting the canonical tag over the past few years.
Content Syndication Platforms
There are numerous platforms where you can republish your content. Let us start with how you can find websites in your niche that will be willing to republish your content.
1. Use Google to find publications
Publications that accept republished or syndicated content often link back to the original website using phrases like:
originally appeared on
originally published on
republished with permission
You can use these phrases in combination with Google Search operators to find relevant publications that will be willing to accept syndicated content from you.
You can use a search query that follows a similar format to find publications that republish content in your niche:
"originally published on" + [topic]
For instance, you want to find publications that have previously republished content on digital marketing. This is what the Google search will look like: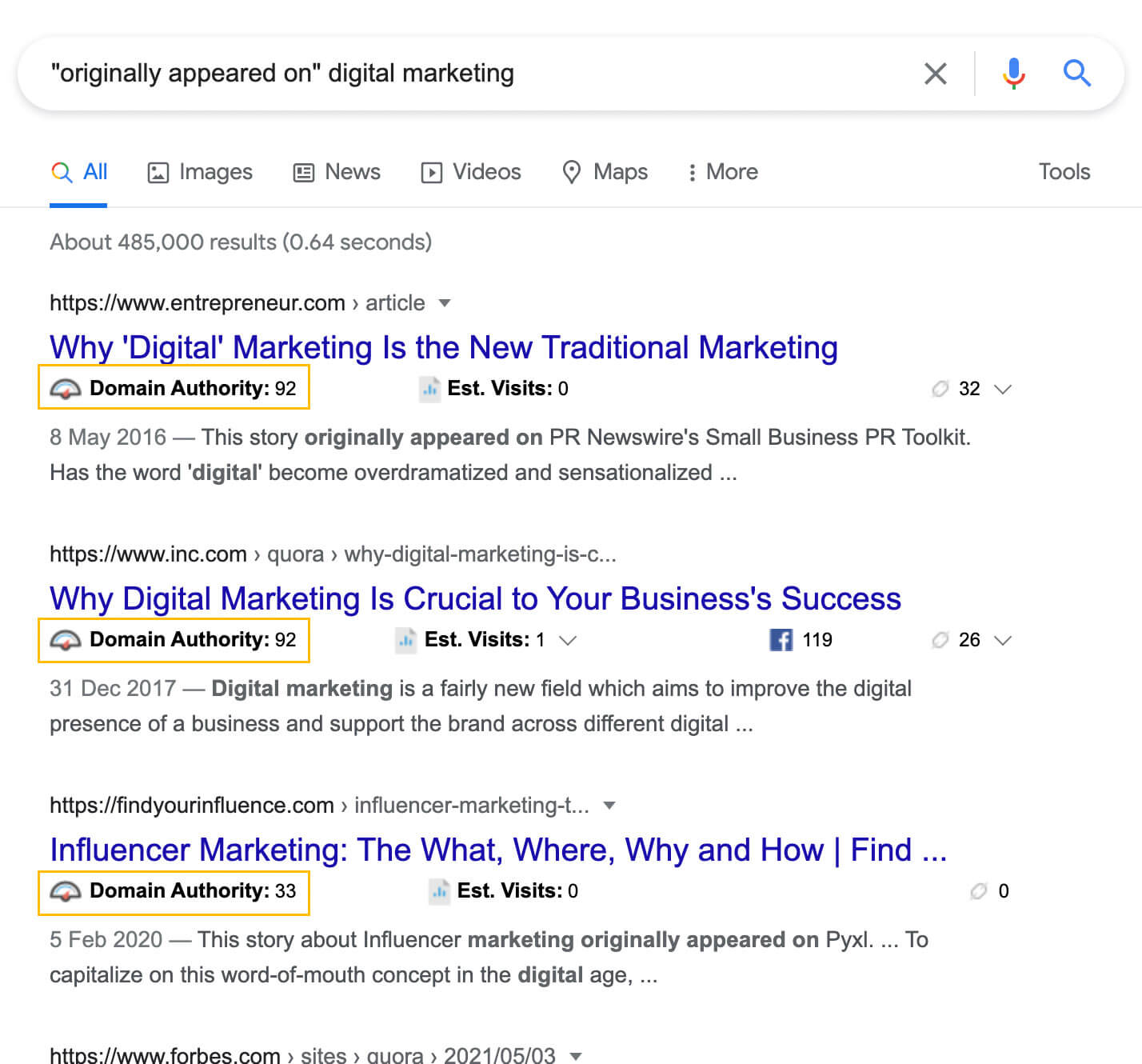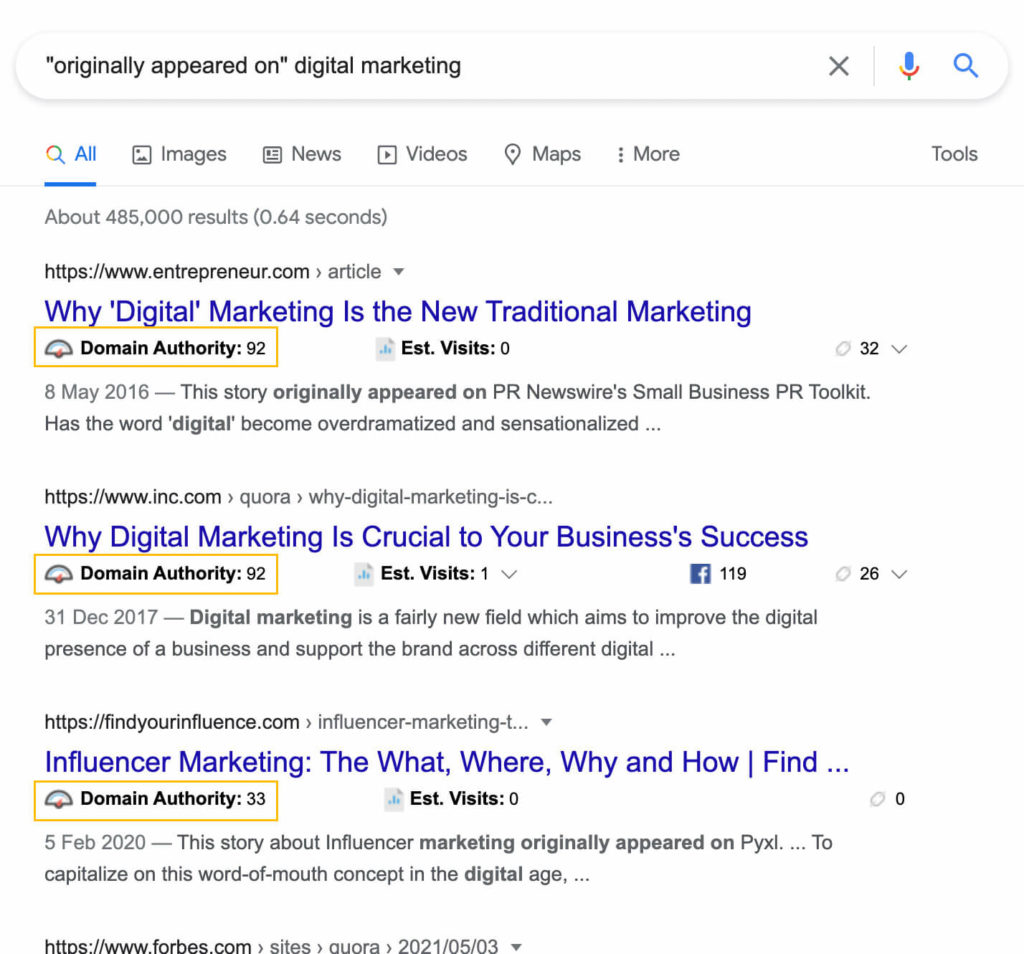 Pro Tip: You can download free SEO chrome extensions to see statistics like Domain Authority, Backlinks, Page Authority etc that can help narrow down your search. I'm using Ubersuggest's Chrome extension in this example.
Once you've made a list of the publications that you want to republish your content on, you can find the email address of the editor and reach out to them.
2. Self – Syndication Platforms
Self-Syndication platforms allow you to republish your content on their website yourself. There's no need to reach out to website owners or editors.
Here are a few platforms where you can republish your content:
2.1. Medium
Medium is an online publication that allows you to republish your content extremely easily. You can also post original content here if you wish to.
Let's look at an example:
This is a post on how to get started in digital marketing without any experience on my blog: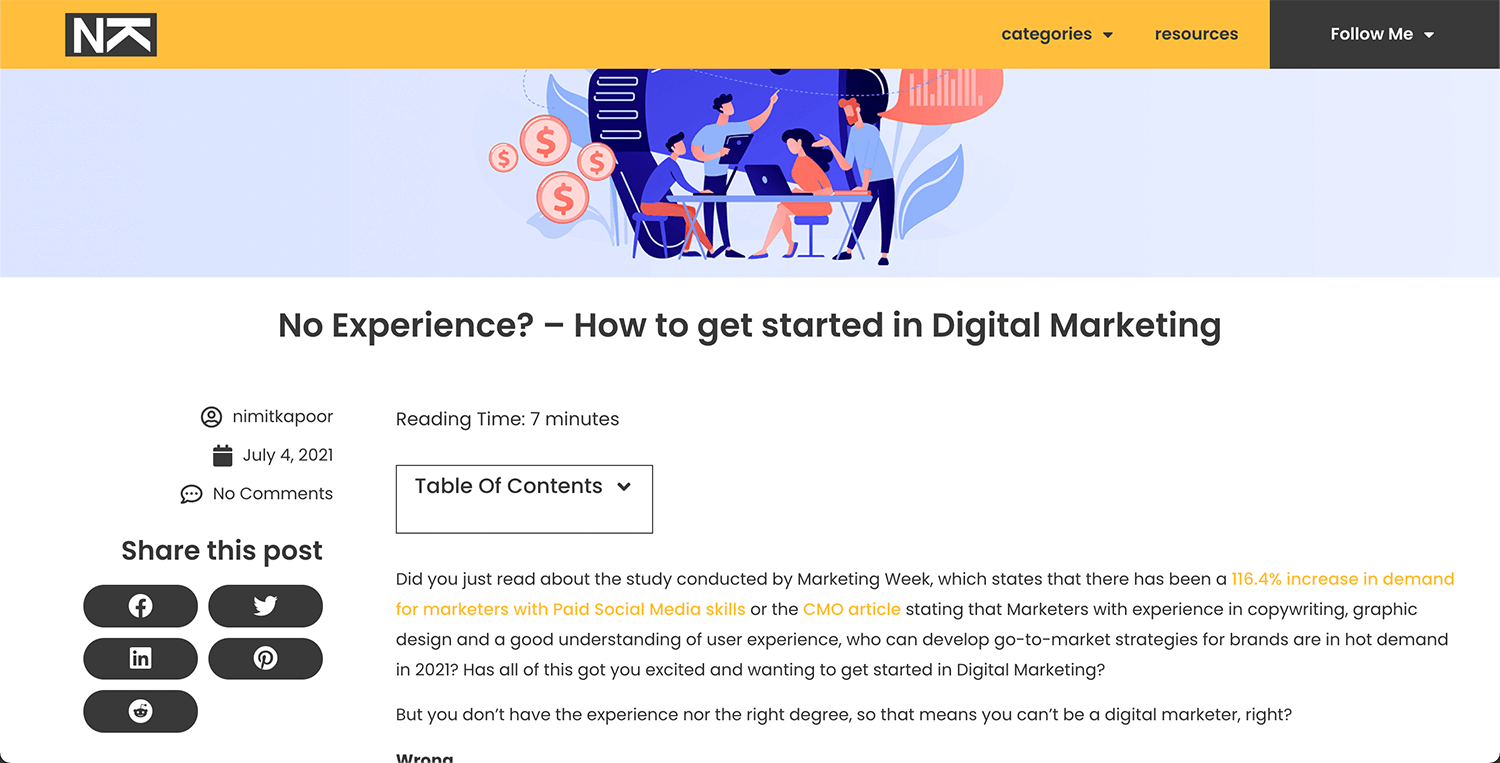 And here it is – the exact same post (republished) on Medium: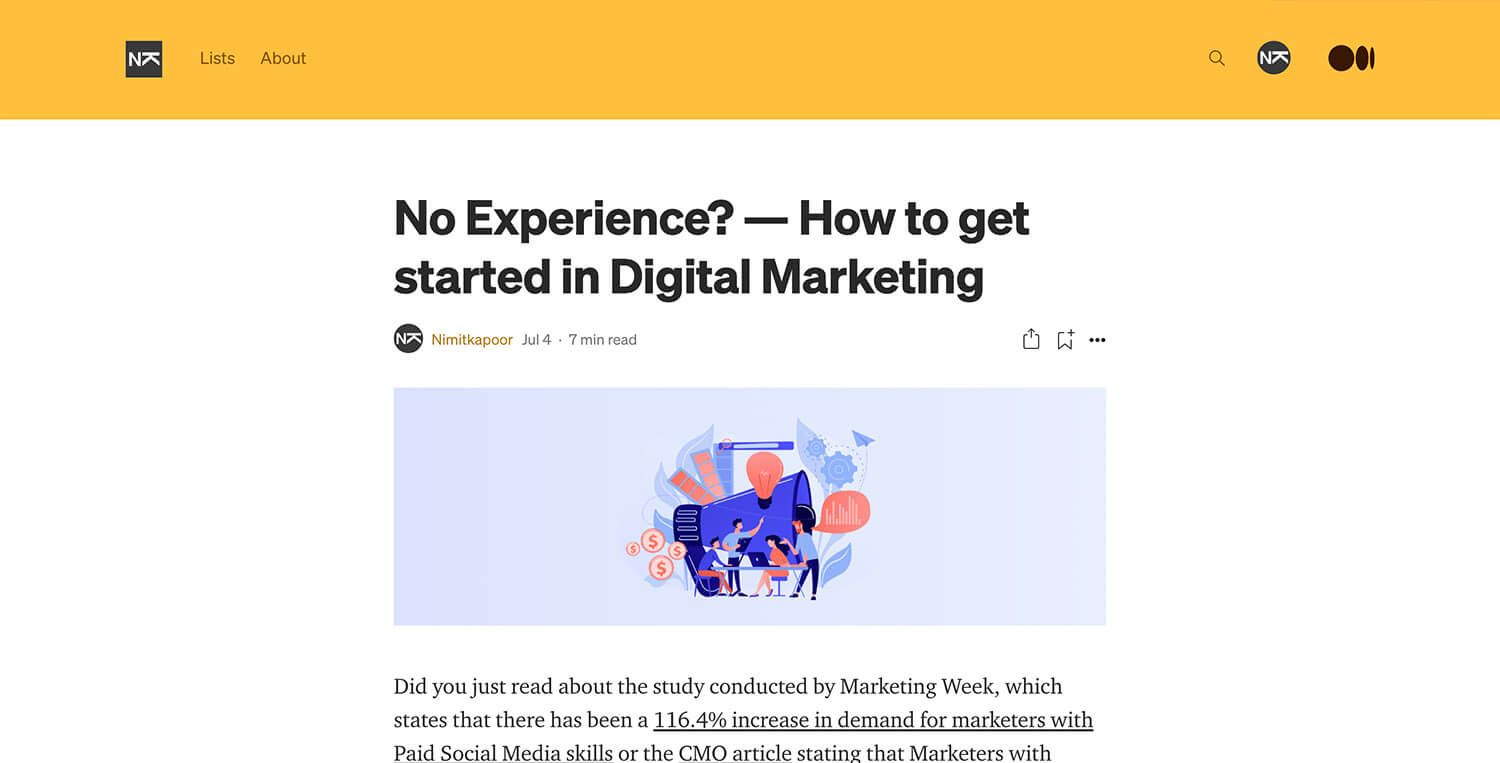 Medium does add "originally published on [sitelink]" at the end of the post.

If you're wondering whether Medium puts a rel=canonical tag to the post – they do. Here is the canonical tag on my republished post on medium (Checked using the Moz chrome extension).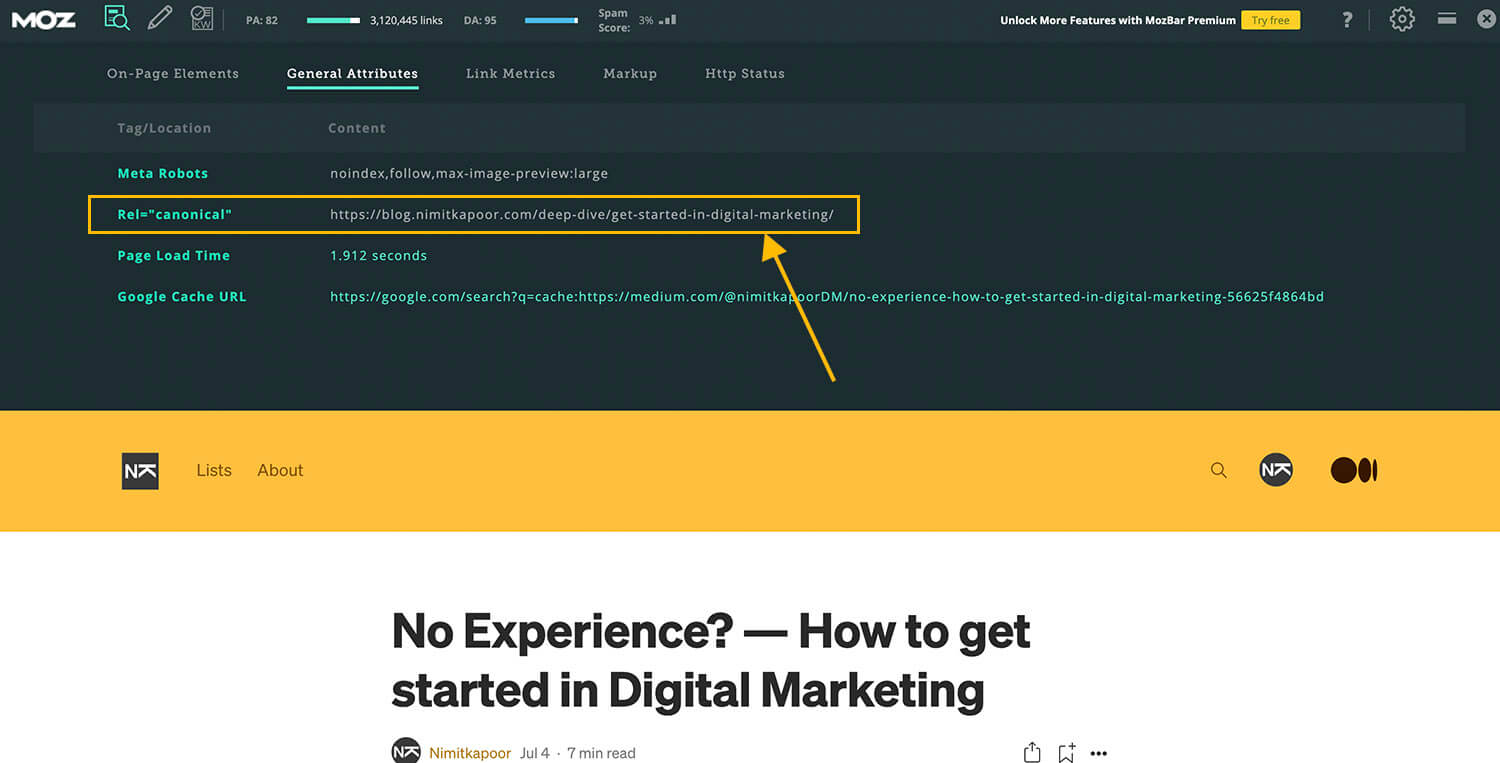 So now that we have seen how Medium can be a great content syndication platform, let's see how we can republish content there in just a few minutes.
Just go to story -> Import a story -> Enter the blog post link -> Import. See the example below: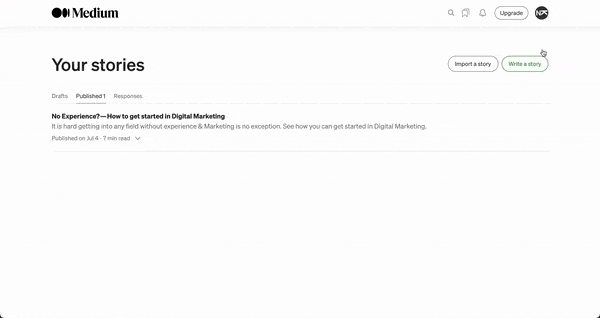 Once you've imported your story on Medium, you'll notice that it adds the "originally appeared on" phrase with a rel=canonical tag at the end of the post.
2.2 LinkedIn
If you want to share your content on LinkedIn, there are two ways to do so. The first will be to simply share the link of your blog post on LinkedIn.
The other option would be to republish the content on LinkedIn as an article. That way you would get a better reach and more impressions.

3. Paid Syndication
Paid Content Syndication is when you pay to publish your content on bigger publications.
If you've ever visited USA Today, CNN or Sky News, you must have come across syndicated articles put on these publications by companies like Taboola or Outbrain. Here's an example from USA Today: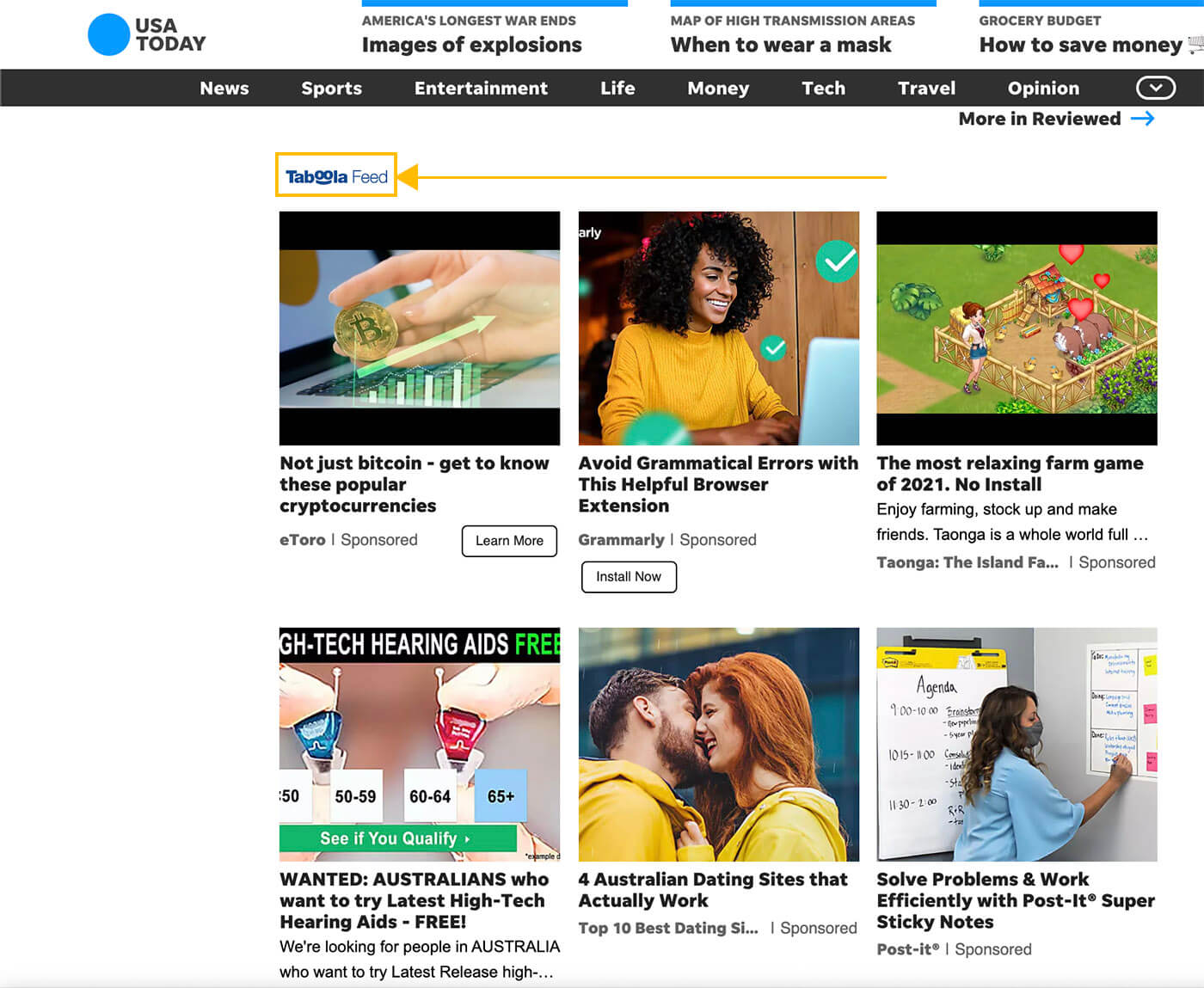 Setting up a content syndication campaign on these platforms is extremely easy. You can select the campaign objectives, the target market and how much you want to spend.
Conclusion
Once you've published content on your website, sharing it across different content syndication platforms will help you increase brand awareness.
When you're just starting out, it'll be extremely important to maximise your reach and content syndication is a great way to do it.