AI in Google Search is finally here – well, almost!
Amidst Microsoft's remarkable advancements in integrating AI into Bing, speculations arose that Google, the reigning industry titan, might no longer dominate the search engine landscape. While Google's integration of AI with search may have taken its time, the company has finally given us a glimpse into the future of Google Search with the power of generative AI.
Google is reshaping the possibilities of search engines. Through remarkable advancements in generative AI, Google Search is now capable of answering complex questions in a way that helps users grasp the topic quicker than ever before.
Let's take a glimpse of what the new Google Search experience will look like.
The new Google Search experience
A lot is going to change with the introduction of the new generative AI capabilities. Users will be able to uncover new insights and viewpoints more easily.
1. The capability
In its recent post, Google gave this example – let's take a question like "What's better for a family with kids under 3 and a dog, Bryce Canyon or arches."
Normally, finding an answer to this question would require the user to first break down the question into smaller bits, sort through the information and combine all the pieces together. However, with the integration of generative AI, Google Search will now be able to answer these complex questions by combining information from multiple data sources and presenting it to you.
It'll provide you with a snapshot of the key information, along with the sources if you want to dig deeper and learn more.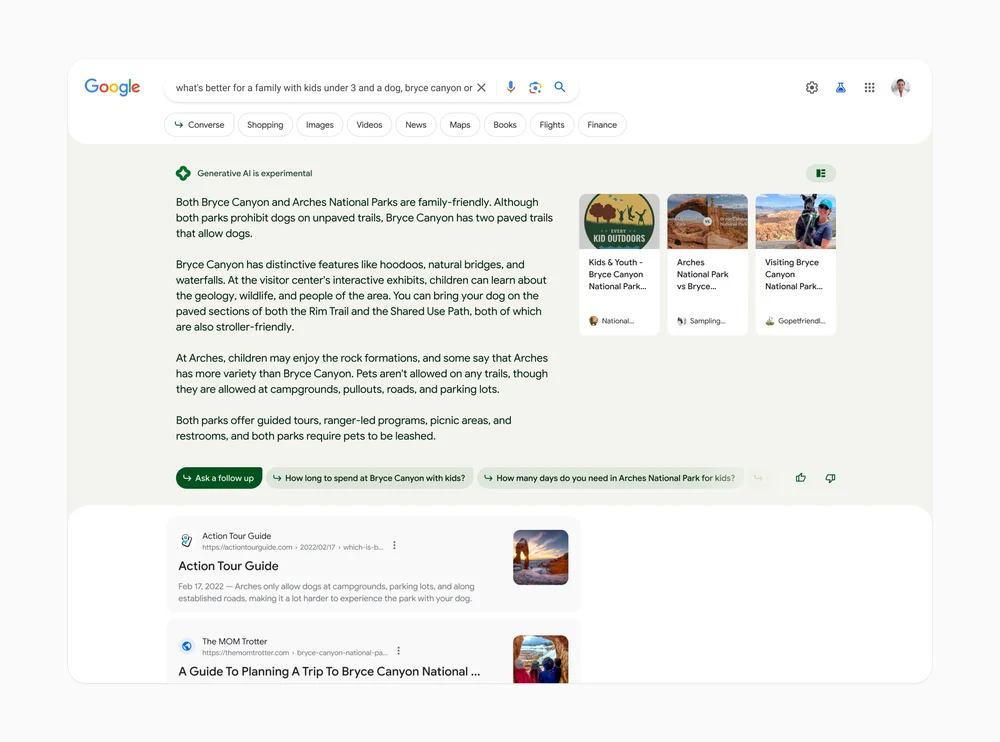 2. The user interface
The AI-generated response will be presented in a separate section above the search results. Google has been careful to label the section with "Generative AI is experimental".
The response will also contain links to the sources that were used to generate the response.
You'll also have the option to ask follow-up questions below the response. This new search experience will resemble more of a conversation rather than a mere one-way transaction.
Here's a clip so you can see it in action.
3. A new shopping experience
Now when you search for a product, you'll get product descriptions, up-to-date reviews, ratings, prices and product images. The new generative AI shopping experience is based on Google's Shopping Graph, which already has more than 35 billion product listings.
4. The Ads experience
Google has said that ads are a vital part of the way the web works so in this new search experience they will continue to display ads in dedicated ad slots throughout the page. Google will also continue to make sure that the ads are distinguishable from organic search results with proper sponsored labels.
How can you get access to the new search experience?
Google is starting this experience in Search Labs, so you'll need to join the waitlist. For now, it's just available in the U.S.
You'll be able to access Google's new search generative experience (SGE) through the Google app or Chrome desktop.