Broken Link Building is one of the most critical aspects of Search Engine Optimisation. SEOs spend many financial and human resources to build high-quality, topically relevant
backlinks
from other sites.
There's no denying the fact that quality backlinks from trusted, authoritative websites can have a great impact on a website's SERP rankings. Google even confirmed that backlinks are one of the top 3 search ranking factors.
Backlinks can be built using various techniques for instance – guest blogging, content syndication, broken link building etc.
For this post, we will just focus on Broken Link Building.
What is Broken Link Building?
Broken Link Building, a.k.a Dead Link Building, is a technique of building backlinks by replacing links to broken pages (404s) with working links to your target site.
Why is Broken Link Building important?
It's quite simple. With BLB:
You can build links within relevant content that already has established authority.
It's easier and less time-consuming than Guest Blog Posting.
When you reach out to a website owner informing them about broken links on their site, they are more likely to replace it with a link to your site since they'll be able to improve the user experience on their site with minimal effort.
What Does Broken Link Building Tactic Include?
Broken Links Building consists of three steps:
Find broken links on other topically relevant pages.
Identify existing pages/create new content to replace the broken links.
Conduct outreach to let the website owner know about the broken links and persuade them to replace them with a link to your site.
How to Do Broken Link Building for Free?
You don't need any paid tools for this tactic. However, to ensure that you don't spend unreasonable amount of hours in finding pages with broken links and conducting outreach, we will use some free tools.

For my BLB process, I use the following three tools:
TIP: You can use free tools to perform almost any SEO tasks. Have a look at our free tools section to learn how to use Free versions of different software to improve your website's rankings.
Step 1: Prospecting / Finding Target Pages
What you'll need is a list of prospects – pages that are related to your target keyword/topic. To do this you can do a simple Google Search, with the query looking something like this:
intitle: your keyword or "resources" + Your Keyword
For instance, I want to build backlinks to my post about GA4 vs Universal Analytics. My search query should be:
"resources" + "GA4"
The reason why I chose resources is that resource pages usually link to a lot of other websites and there are higher chances of finding broken links on resource pages as compared to other pages.
For this search query, I get 1,51,000 results. What I need is the URLs of the first 80-90 Search results. I can either extract them manually or use a free tool like MozBar to extract the results in a .csv format.
When you have MozBar installed, all you have to do is click on the Export icon while you're on the Search Results Page. This will give you the URLs for the top 100 search results.


The CSV file that gets downloaded will have a lot of information that you won't need for now. The only column that gets you'll need is URLs. You can delete all the other columns.
Step 2: Finding Pages with Broken Links
If you have access to paid versions of tools, like Screaming Frog's SEO Spider, this step becomes extremely easy to perform. But since this post is all about free tools – I've made an External Links Extractor using Google Sheets that can easily identify all the External links that a page points to and if any of them returns a 404 (Page Not Found) error.
Step 2.1: Make a copy of the Google Sheets
You can make a copy of the Google Sheets from here.
Just click on make a copy when you're prompted with the following message: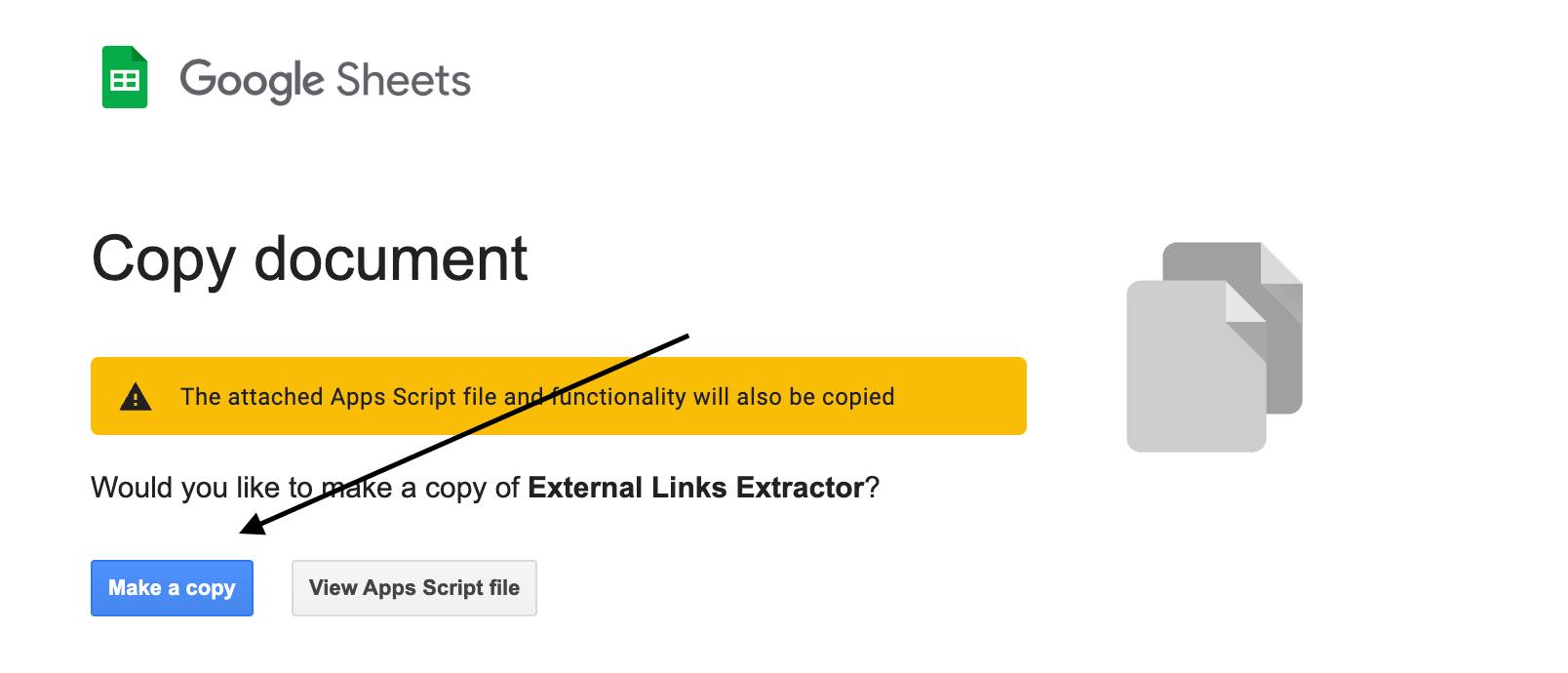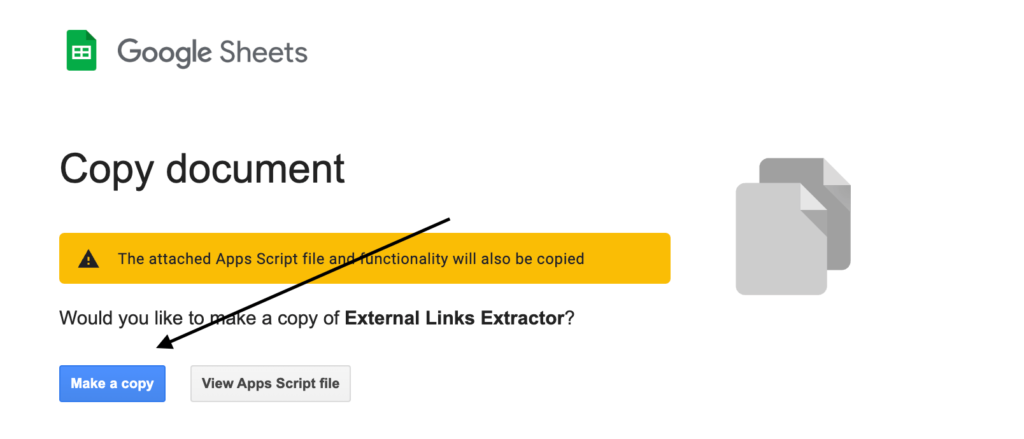 Step 2.2: Run the Link Extractor Tool
Just place one of the URLs that you got from the MozBar .csv in the cell and click on Run Link Extractor Tool.
You might be asked to give authorisation for the Google Sheets app script to run. Just click on Continue and then sign in using your Google ID.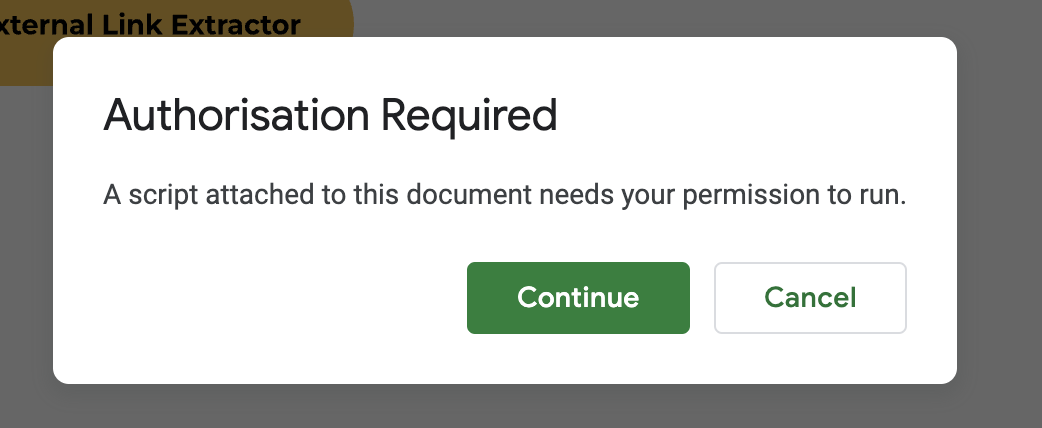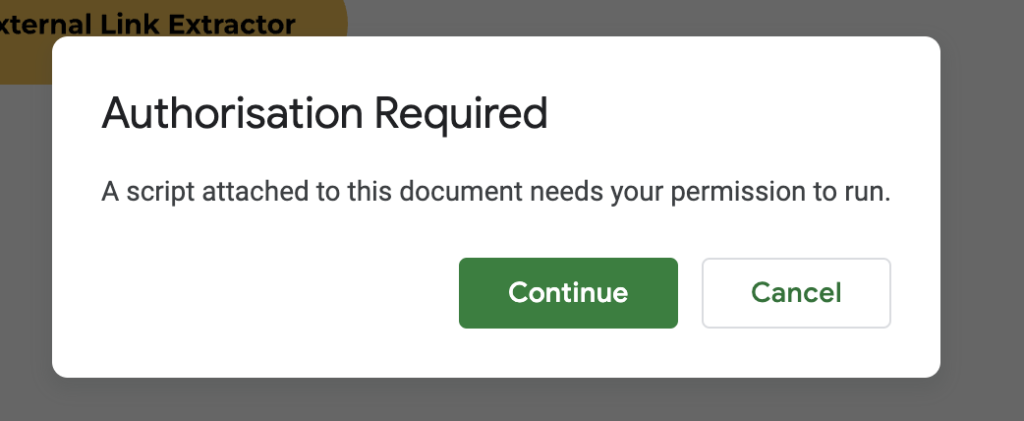 Step 2.3: Make a list of all the URLs with 404 Status Code
Broken Links will return a 404 status code. Once the External Link Exteractor has finished running, you'll get a count of how many External URLs were discovered on the page and out of those how many returned a 404 status code.

Go to the External Links tab to identify broken links. The ones that are returning a 404 status code will be highlighted in red.
Step 3: Find Existing Pages or Create New Content
The next step in broken link building is understanding why the author linked out to that page in the first place. For this, you need to determine what the broken page was all about.
Wayback Machine is a library of internet sites that allows you to go back in time and see how they actually looked at that time.

Just insert the Broken URL in the search bar. You'll get a lot of snapshots of the site at different points in time – find one where you can go through the content of the page to get an understanding of what you need to write about or which of your existing pages can be a good replacement for that content.
Step 4: Reach out to the Website Owner
So now you've created a list of opportunities. Try to find an email that you can send out a message to regarding the broken link on their website.
You can send them a similar email:
Hi, 

I'm a freelance Digital Marketer and SEO. I recently landed on your website while researching for something that I'm working on. 

This is just a note to the author - One of the websites that you've linked out to in your amazing blog post [insert blog post link] is giving a 404 Page not Found error. 

I have a blog post on my website on the same topic: [your website link here]

Maybe updating the broken link could make sure that your readers have a great website experience. 

Cheers, 
[Your Name].
Conclusion
Broken Link Building, compared to guest blogging, is more scalable and less time-consuming. However, one needs to understand that it's just a small part of the grand scheme of things. You can't rely on it alone but it's a good weapon to have in your arsenal.
So keep calm and build links!