If you want to boost your website's Search Engine rankings, you'd have to focus on off-page SEO optimisation as much as you do on On-Page SEO and Technical SEO. Off-Page SEO can pose a lot of challenges but if done right, it can help you get that top spot on Search Engines and the revenue that comes with it.
If you've just started optimising your website's SEO and want to know what you can do to improve its off-page presence, this post will provide you with a reliable roadmap that you can follow.
So let's begin.
7 Step Off-Page SEO Optimisation Guide
#1 Backlink Profile Audit
The first step in your Off-Page Optimisation journey would be to perform a backlink profile audit of your website.
What are Backlinks?
Backlinks (also called "incoming links") refers to links from a website to your website. Pages with a high number of quality backlinks tend to have better rankings as compared to other pages.
There are a number of free tools that you can use to perform a backlink audit:
Note: These free tools will limit the number of entries that you can see. However, you can purchase the trial versions or just go for the paid subscription if you've got the budget.
On Google Search Console, you can go to "links" on the left bar and see what websites are linking to what content on your website. You can also see how your internal links are structured.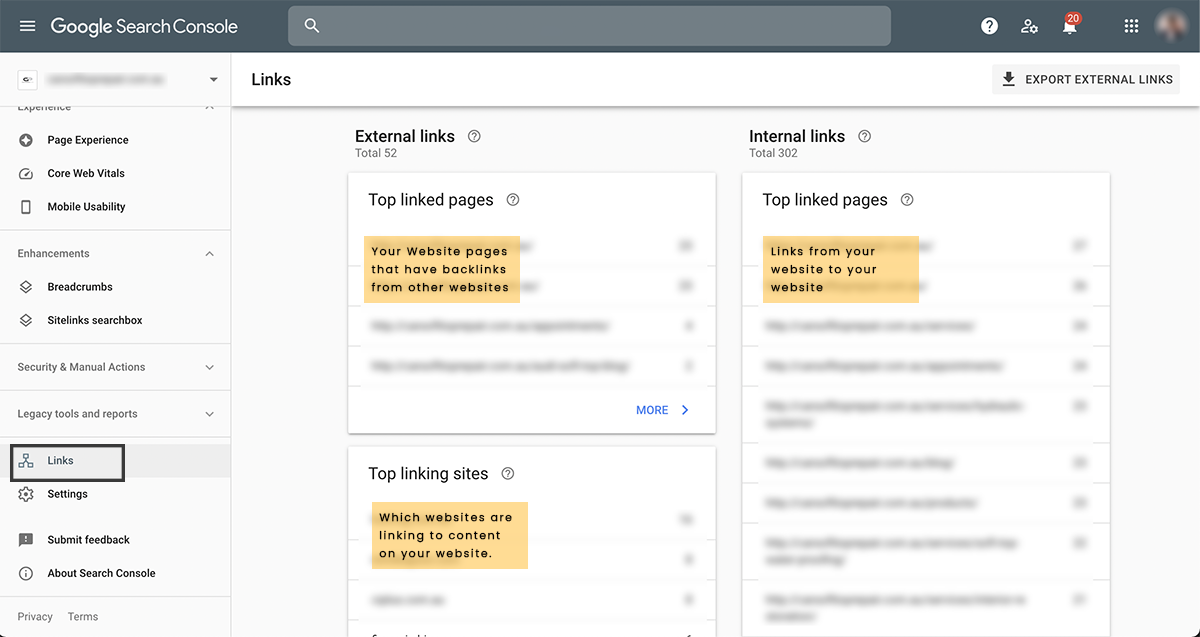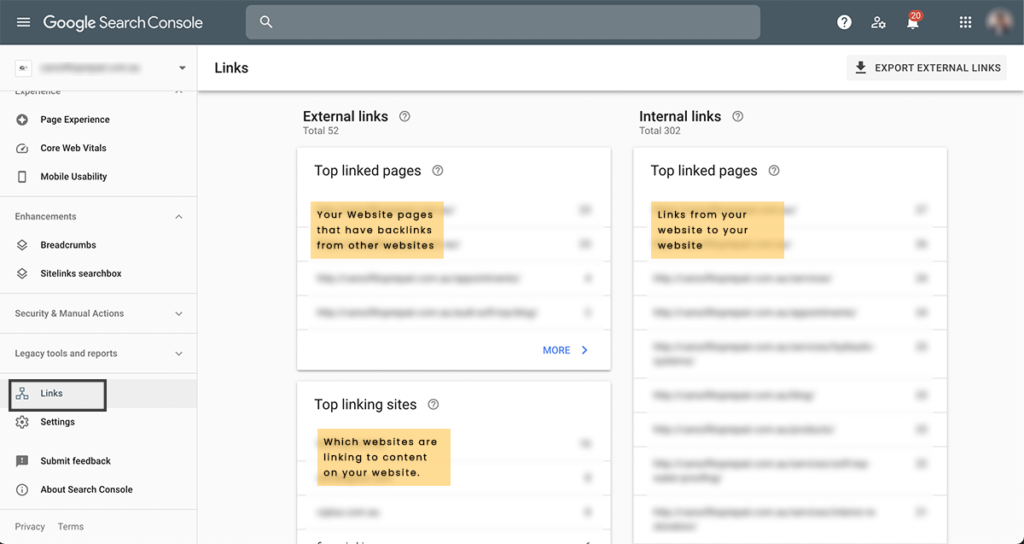 Google Search Console is a great free tool to check your backlink profile. However, if you need more in-depth analysis, you'd be better of with tools like Moz. With Moz, you can not only see which websites are linking to your website but also, what's the Page Authority of those websites. You can also see your recently discovered and lost linking domains (You'll be using this data in Step 3).
Once you enter the domain in the search bar, you'll get a lot of information that you can then analyze and see what areas need improvement.




#2 Competitor's Backlink Profile Audit
You should not only perform an audit of your own backlink profile but also look at your competitor's backlink profile. After all, you'll be competing with them for search engine rankings. You can download and analyze this data to find new backlink opportunities.
For instance, if you're trying to find new backlink opportunities for 'Semrush' (a great keyword research tool), this blog post on "How to do Keyword Research for SEO" that links to UberSuggest can be a great link building opportunity.

#3 Check for Lost Links
Backlinks can be lost for a variety of reasons. But sometimes they can be reclaimed.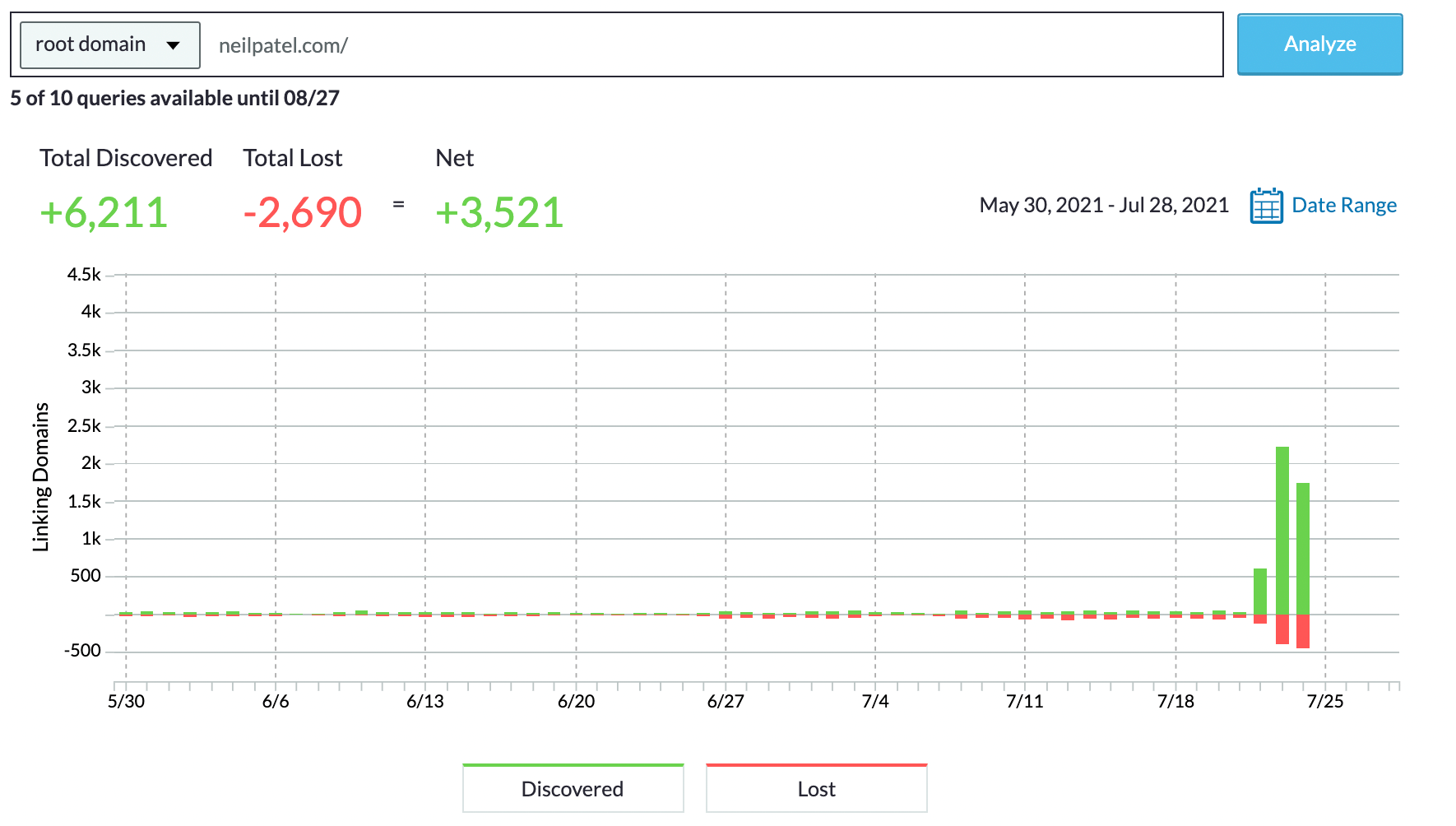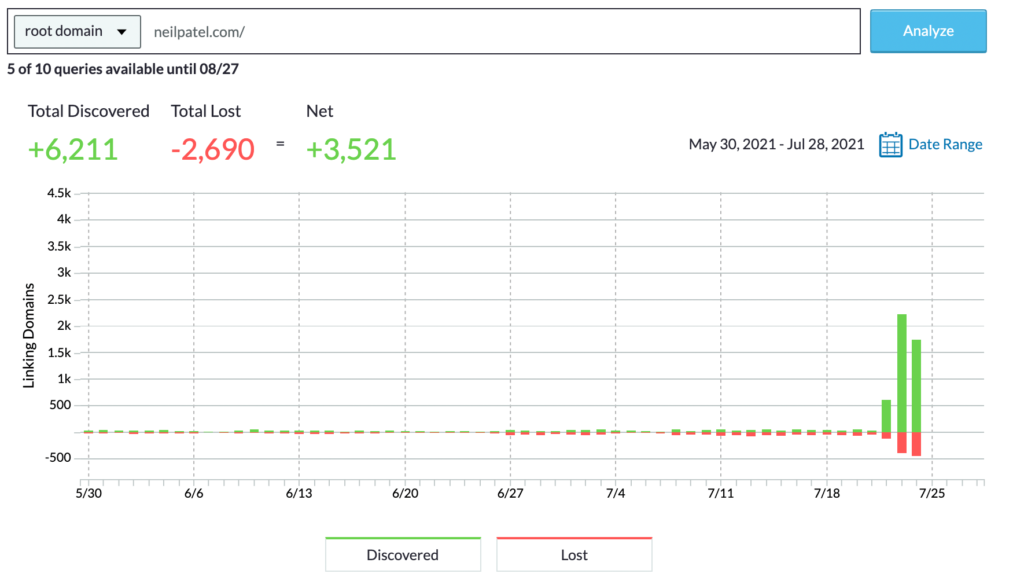 As you can see, Neil Patel has lost 2670 backlinks between May 30, 2021, and July 28, 2021. You can perform a similar search for your website and download the data into a spreadsheet.
You can then use this data to find out the links that are worth reclaiming and contact the author of the website to try and reclaim the lost link.
#4 Improve Internal Linking
Internal linking is as important as external linking when it comes to SEO. One of the first steps to set off your Off-page SEO optimisation strategy should be improving your website's internal linking.
Proper internal linking can help search engines understand and crawl your websites, improving the chances of it ranking higher. Using proper internal linking can also help you pass authority (also called "link juice") from your high-authority pages to low-authority pages.
You can use Screaming Frog, which lets you analyse 500 URLs for free. If you have a small website, then the free tool is all you need.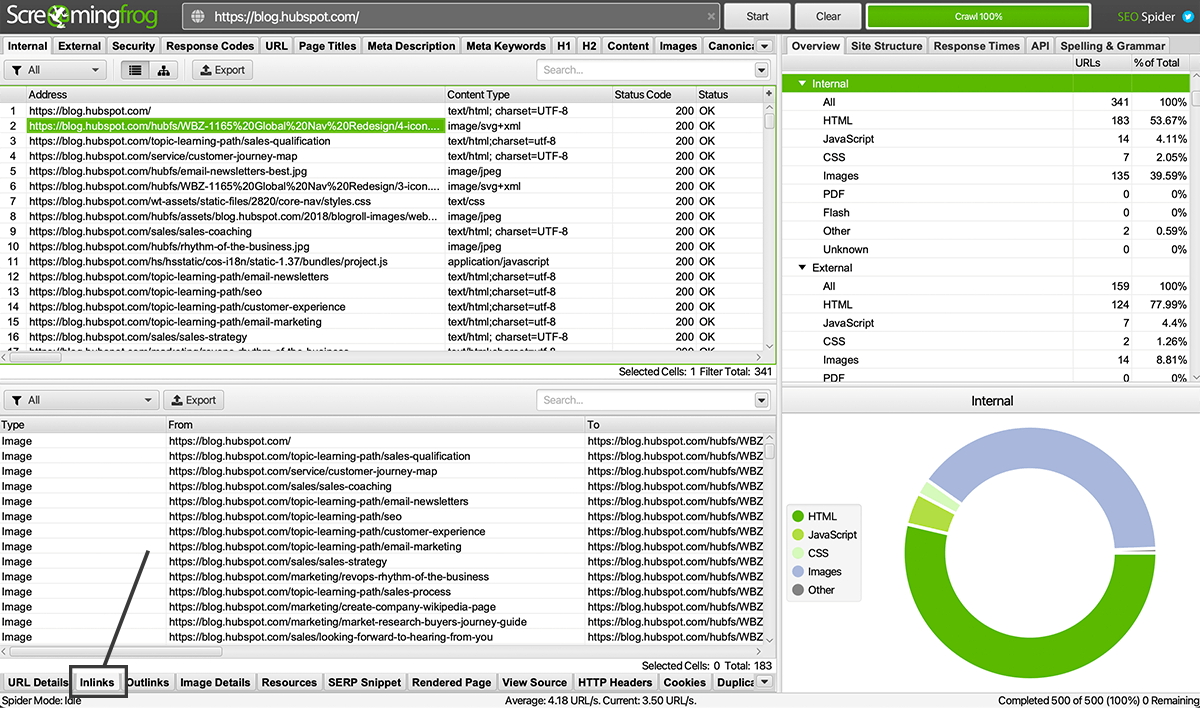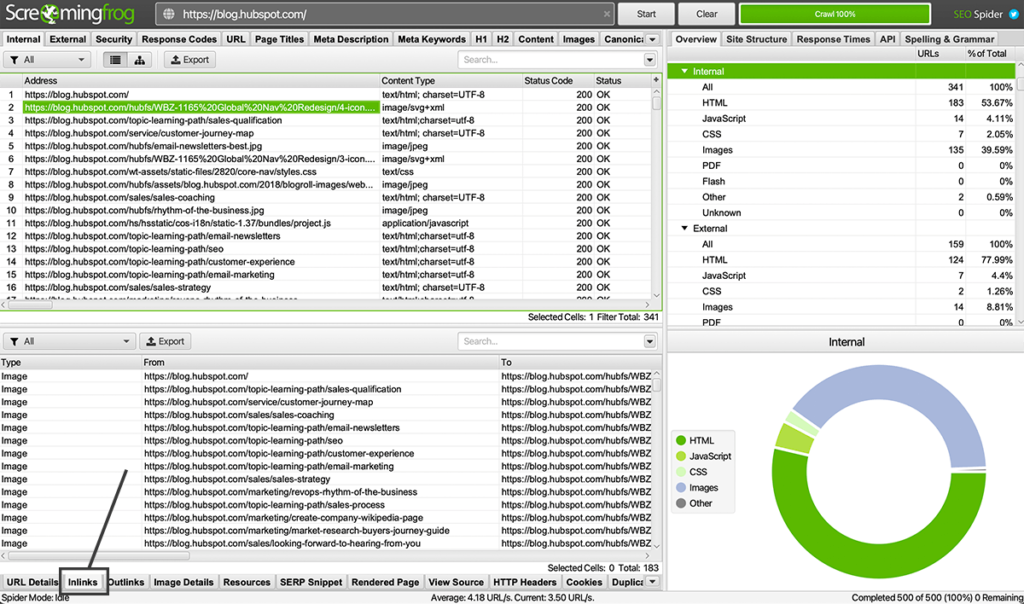 Screaming Frog will allow you to analyse every page and the internal links on that page. Using this information, you can determine which pages don't have any other page linking to them (also called orphaned pages). Build internal links on these pages keeping in mind:
You are using keyword optimised anchor text for building internal links.
Have a footer with internal links to important pages like product or blog categories etc.
You don't have to force internal linking. Make sure that you're providing links that are relevant to the user.
#5 Pursue Unlinked Mentions
Sometimes people might mention your brand or website without linking to it. You can and you should try to convert these unlinked mentions to your brands to linked mentions. There are several ways to do it. You can use the Content Explorer Tool by Ahrefs.com, it makes finding unlinked mentions extremely easy. You can even sort these entries by Domain Authority to focus on converting only those unlinked mentions that are present on high DA (Domain Authority) websites.
But let us assume that you don't have the budget to invest in software right now, then what? There is a way to find brand mentions through google search.
Example:
Let's search for "Backlinko" (excluding the results from the Backlinko website and any well-known social media platforms as these aren't that useful).
P.S I just mentioned Backlinko in the previous sentence, without linking to their website. This is what an unmentioned link is.
Moving on, here's my search:
intext:backlinko -backlinko.com -twitter.com -facebook.com -pinterest.com -youtube.com
This search term will give you all the content on Google that mentions backlinko (unlinked and linked). Now, there's no way to go through all 1.43k search results. So what you can do to narrow down your search is set a custom date range.
Here's how to do it on Google:
This will reduce the number of entries, however, you'll have to go through each of these links manually to see if they have linked to your Brand.
You can go ahead and use Chris Ainsworth's extract URLs from Google's SERP and then upload this to ScrapeBox Free Link Checker Tool to check if the mentions are linked or unlinked. Here's a great guide by Ahrefs on how to do this.
#6 Consider Guest Blogging
Guest posts can be a great tool if you want to establish yourself as an authority in your industry or just want to drive more traffic back to your website. They should definitely be a part of your Off-Page SEO Optimisation strategy. In order to achieve the above-mentioned goals, you would need to find blogs that have a wide reach and engaged audience.
You can start this search on Google by typing any of the following search queries:
(Replace keyword with keywords relevant to your industry)
keyword "submit a guest post"
keyword "accepting guest posts"
keyword "guest post guidelines"
keyword "guest post"
keyword "guest post by"
keyword "write for us"
Suppose you're working for an automotive repair business, this is a potential search that you can do: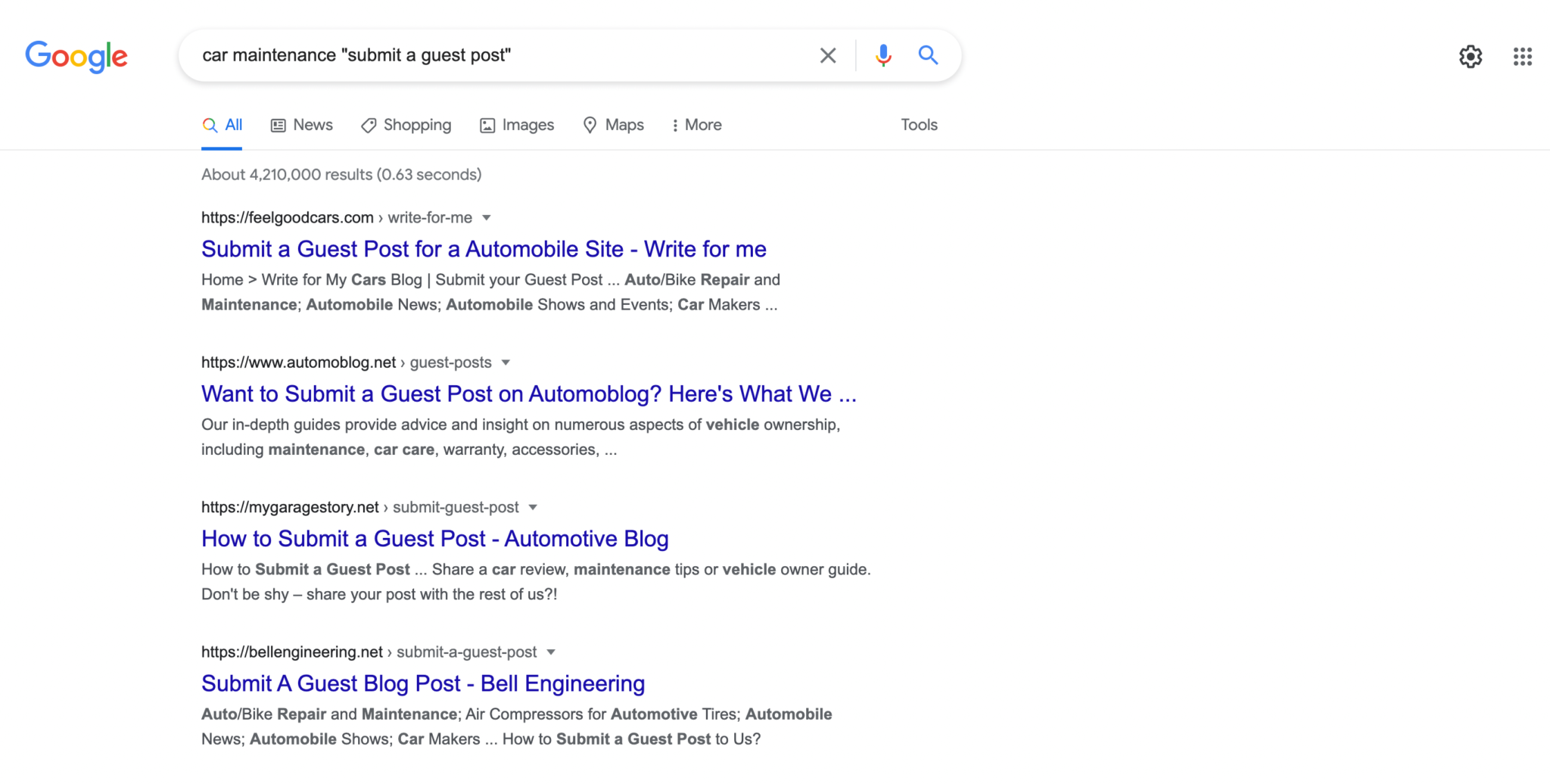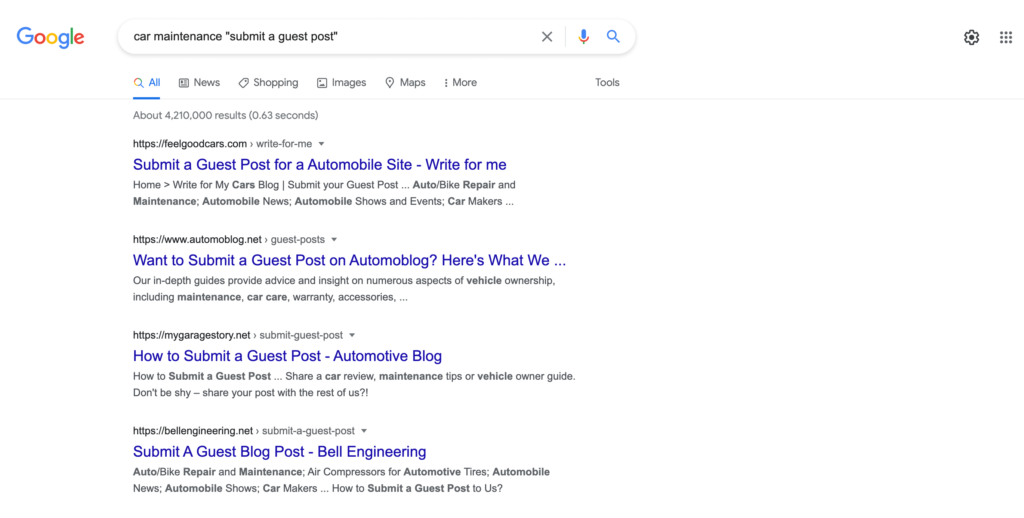 You can open any of these websites and submit a post there. You can see what the Bellengineering page says:
Most of these blogs will offer you a do-follow backlink that will not only give you more exposure but also help you improve your website's SERP rankings.
#7 Share Content Across Social Media Platforms
So you've created interesting, high-value content and performed all the steps mentioned above. Now what?
Re-purpose this content into formats that can be shared across social media channels, such as, Instagram, Facebook, Twitter etc.
It's getting more and more difficult to build a social media following but if you're providing high-quality, relevant content, you will see results sooner or later. It does require patience and consistency.
There are few formats that attract more engagement as compared to other formats:
Case Studies
Tools
Infographics
Guides
Quiz
Always have a clear CTA on the content that you share on these social media channels. Ask your followers to share and like the content.
Conclusion
You've reached the end of this checklist! By now, you will have an idea of how you can start building your Off-Page SEO Optimisation strategy. So what are you waiting for? Go ahead and get started!