Did you know that On-Page SEO can have the highest ROI among all aspects of Digital Marketing? It's low-cost and if done right, it can help your blog get passive traffic for years to come. Don't worry if you've just started your blog or have just started optimizing it for SERPs, this blog post is the ultimate on-page SEO Analysis guide for beginners that can be used to make your website both human and search engine friendly.
Find a FREE Beginner's On-Page SEO Checklist attached at the end of this blog post.
Since this is a bite-sized post, let's dive straight into it and see what you can do to improve your website's on-page SEO.
Before you continue with the list, for the purpose of this post, we are using the Yoast SEO Plugin for WordPress.
There are other ones as well, like Rank Math or All-in-one SEO. These plugins make life a whole lot easier and you don't need to spend hours fixing Title Tags and Meta Descriptions.
If you're using any other CMS, such as Shopify, you probably wouldn't need these.
#1: Use short but descriptive URLs.
URLs are supposed to tell the searchers what the page is about but a lot of websites often ignore it. Lets take a look at this example:
blog.nimitkapoor.com/325867
blog.nimitkapoor.com/on-page-seo-analysis
Which of the two URLs tell you more about what you'll find on the page after clicking on it? Try to use your primary keyword in the Slug section of your Yoast SEO plugin. Keeping the URL short prevents it from being truncated in SERPs and improves CTR.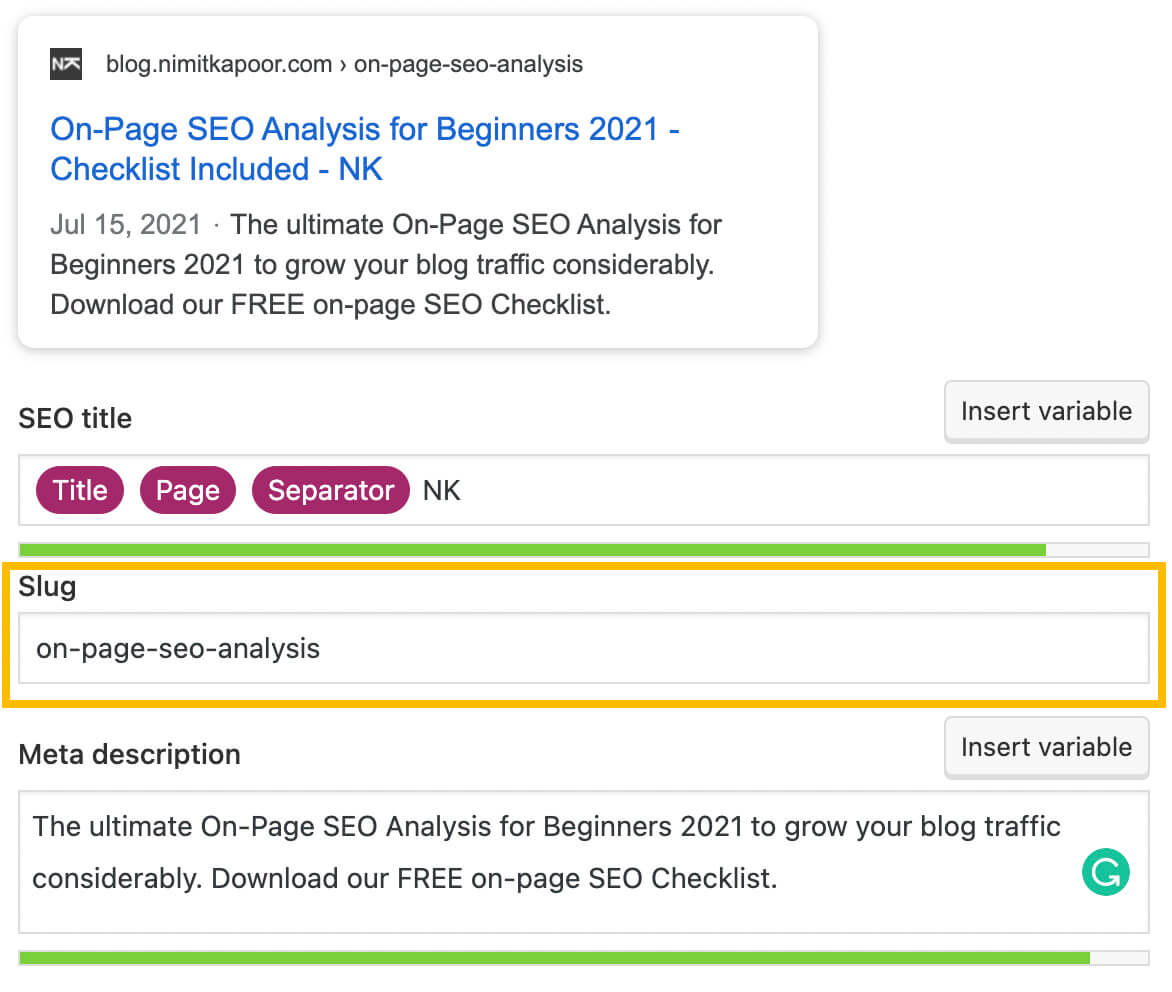 #2: Write Engaging Title Tags and Meta Description
The Title Tags is something that tells the searchers what the article or website page is about. It's that bold blue text that you see on Google. And Meta Description is what you see just below that. Google shows meta descriptions around 1/3rd of the time.

You have limited real estate on SERP, so it's extremely crucial to make the Title Tags and Meta Descriptions compelling. General practice is to include your primary keywords in both the Title Tags and Meta Descriptions but ensure that it makes sense.
Title Tag:
Google's display titles max out at 600px, which is approximately 50-60 characters. So try to keep your Title length in that range. If you have a strong brand, including the brand name along with the keywords can lead to high CTRs.
Meta Description:
It's best to keep the meta description around 160 characters to ensure it doesn't get truncated in SERPs. Meta Descriptions do not directly affect SEO rankings but they do have an impact on the CTR, which is an important factor for a page's ability to rank.
#3: Engage in Link Building
Link Building refers to both internal link building and external link building (More in our Off-Page SEO Post). When you link to other relevant external resources, you're providing more value to your readers and that helps greatly in your website's ability to rank higher on Google. Just watch this video by Google Search Console to see how linking out can be beneficial for your website's SEO.
Since this is an on-page SEO analysis for beginners, it's important to emphasize how underrated link building is. It not only ensures that users stay on your website longer but also helps Google discover new pages. There are a lot of tools, such as ahrefs that you can use to find internal linking opportunities.
#4: Optimize your images
Un-optimized images can hamper your website's ability to rank on SERPs. Ensure that you follow these three things when using images on the website:
Don't use generic filenames like screenshot1.png, instead use descriptive filenames, such as, red-car.jpg
Don't forget to put alt-text that replaces the image on the webpage when it fails to load.
Use optimized images – If your images have a big file-size or dimensions than required, it can slow the page load speed and negatively impact google rankings. You can use free websites like tinypng.com to optimize images without affecting their quality.
#5 Add Schema Markup for Rich Snippets
Schema Markup not only helps search engines understand the website content but also how they show the webpage on the SERPs.
Schema Markup can increase CTR and positively impact your website's Google Rankings. Here's an example of a search result with Schema implemented.


If you're using Yoast SEO, then it's not at all technical to implement and you can go through this guide on how to implement schema.org with Yoast SEO.
Conclusion
SEO can be intimidating for people who are just starting out but it doesn't have to be. You can perform this simple on-page SEO analysis for beginners in 2022 to improve your website's ranking. You can download the On-Page SEO Checklist to ensure that you don't miss out on any of the steps mentioned above.